Where Flour and Sugar Become Art! Welcome
 Please sign our guest book.Rebekah's Sweet-art specializes in Cakes, Cookies, Cupcakes, Event Planning and more!We know how stressfull planning your next event can be, and we want to lift the burden off of your shoulders.We are here to serve you!
Vividly Elegant on-line treasures for your Princess!(Unique Party Favors)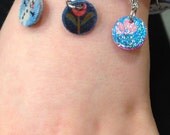 Birthday Girl Party Favors and Party Princess Costume Jewelry and more to make your Little Princess' day unique and special!
www.etsy.com/shop/VividlyElegant
  *Just so there will be no misunderstandings, I am not , and don't claim to be a licensed retail cake decorator. I do cakes from my home as a hobby for family & friends and referrals there of.  
216 Port Royal Dr. Savannah, GA. 31410